LARD DOUBLE WITH HERBS
Label name
LARD DOUBLE WITH HERBS
Images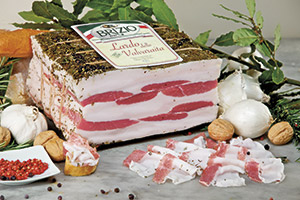 Brizio Salumi was established in 1939 by Matteo Brizio, known to all as "Nonno Materin". His experience and passion went into creating a range of products that quickly became favourites in his native Province of Cuneo and the very symbol of Piedmontese cured meats.
Brizio is now known as the leading traditional cured meat company in the Province of Cuneo and keeps the same principle: Quality above all else. Since a couple of years Brizio has introduced a range of products obtained from free range pigs:"I Porci Comodi".
Its salamis are stuffed in natural casing, hand tied and gluten free.