Monogram IGP Puglia BIO
True authenticity.
Bio IGP Olio di Puglia is a tribute to our land, where our oil
is born. It is a tribute to the olive trees of this generous terroir, which we take care of every day, safeguarding nature. It is the tangible sign of our relationship with nature. Bright green like our organic extra virgin olive oil.
Green, like the olive branches of Puglia illuminated by the sun.

PUGLIA BIO IGP extra virgin olive oil offers maximum certainty in terms of genuineness. Each bottle is guaranteed by the consortium, which verifies the entire supply chain, rigorously made in PUGLIA, from the tree itself to the final packaging.
The oil is also subjected to chemical and sensory tests (tasting by commissions recognized by the Ministry of Agriculture) to verify complete compliance with the specification.
BIO IGP Puglia olive oil also means commonality and strong bond with the territory, certified by the Community IGP trademark (Protected Geographical Indication) and by a rigorous production disciplinary.
Denomination of Origin
IGP
Label name
BIO IGP Puglia extra virgin olive oil
Type (Storage Temperature)
stable (room temp)
Packaging / Sales format
bottiglia in vetro 20ml bottiglia in vetro 500ml
Images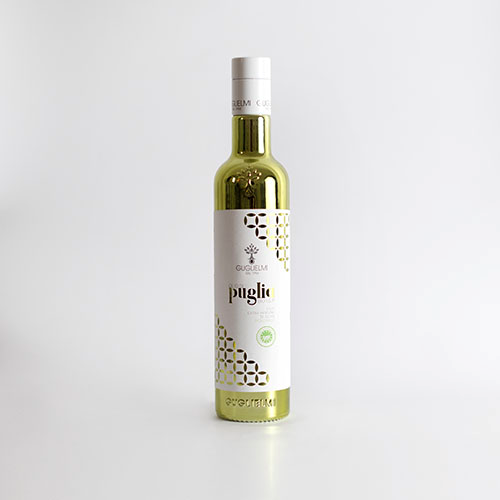 Images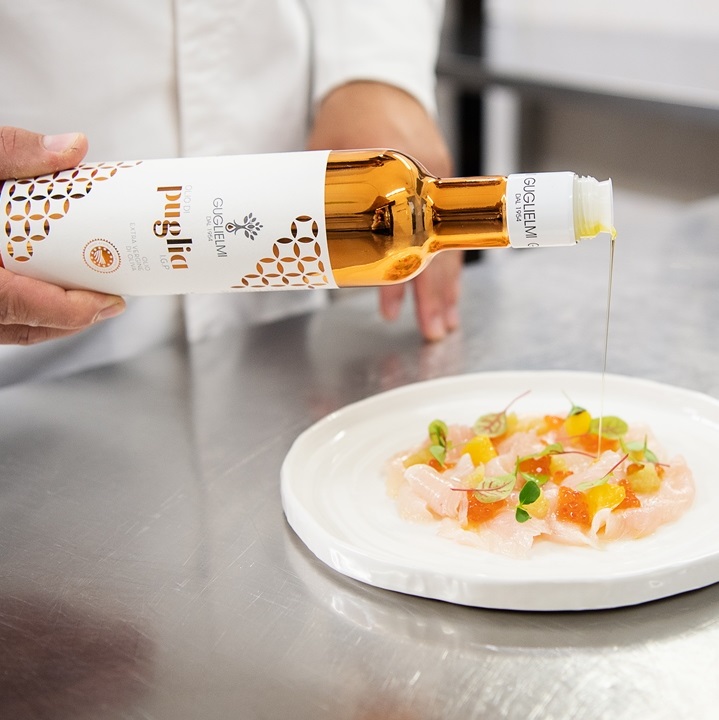 Olio Guglielmi is a family company producing premium quality Italian extra virgin olive oil from Puglia, since 1954.
Company's philosophy is to combine traditions with customers' needs by offering an absolutely excellent product, characterized by many shades of taste and exciting fragrances and also for its innovative and new packaging.
Our strength lies in the control and management of the whole production chain. Family lands cover more than 200 hectares cultivated in Puglia. The olives harvested are milled in the own factory, in an area of 21.000 sqm including six different production lines.
Images